The American Rescue Plan Act (ARPA) of 2021! New Family First Coronavirus Response Act (FFCRA) is Back! How Will this Version Impact the Workplace?

Margie Faulk is a senior-level human resources professional with over 14 years of HR management and compliance experience. A current Compliance Advisor for HR Compliance Solutions, LLC, Margie, has worked as an HR Compliance advisor for major corporations and small businesses in the small, large, private, public and non-profit sectors. Margie has provided small to large businesses with risk management strategies that protect companies and reduces potential workplace fines and penalties from violation of employment regulations. Margie is bilingual (Spanish) fluent and Bi-cultural.
Margie's area of expertise includes Criminal Background Screening Policies and Testing, I-9 document correction and storage compliance, Immigration Compliance, employee handbook development, policy development, sexual harassment investigations/certified training, internal investigations for all employee relations issue, volatile termination compliance, labor poster compliance, monitoring US-based federal, state and local regulations, employee relations issues, HR management, compliance consulting, internal/external audits, and performance management. Margie is a speaker and accomplished trainer and has created and presented compliance seminars/webinars for US and International organizations. Margie offers compliance training to HR professionals, business owners, and leadership to ensure compliance with workplace and regulations.

Margie holds professional human resources certification (PHR) from the HR Certification Institution (HRCI) and SHRM-CP certification from the Society for Human Resources Management. Margie is a member of the Society of Corporate Compliance & Ethics (SCCE).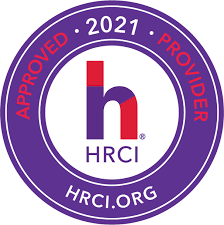 This webinar has been approved for 1.50 HR (General) recertification credit hours toward aPHR™, aPHRi™, PHR®, PHRca®, SPHR®, GPHR®, PHRi™, and SPHRi™recertification through HR Certification Institute® (HRCI®). Please make note of the activity ID number on your recertification application form. For more information about certification or recertification, please visit the HR Certification Institute website at www.hrci.org.
For any further assistance please contact us at support@grceducators.com


On March 11, 2021, President Biden signed H.R. 1319, the American Rescue Plan Act of 2021, which extends tax credits for private employers with 499 or fewer U.S. employees that voluntarily decide to provide emergency paid sick and/or family leave according to the otherwise-expired standards in the Families First Coronavirus Response Act's (FFCRA) Emergency Paid Sick Leave Act (EPSLA) and Emergency Family Medical Leave Expansion Act (EFMLEA).
Employers need to prepare for how this version will impact their company and employees when it comes to providing sick leave and emergency paid leave. Learn how this new FFCRA should be implemented to avoid discriminatory Practiced when providing paid leave, testing for COVID-19, and having vaccination programs.
Areas Covered
What are the specific requirements under the new FFCRA?
What is the effective and expiration date of this new FFCRA?
What are the requirements that impact the paid sick leave
What are the Reasons Employees Can Use Paid Sick or Family Leave
Eliminating Initial Unpaid Period of Emergency Family Leave
Employers who provide the paid leave will get tax credits
Can employees who are eligible get paid sick leave when they get vaccinated?
How can Employers mitigate the new FFCRA and communicate guidelines effectively to employees?
Can employers provide EPSL but not EFML?
How will the new FFCRA integrate or conflict with the DOL Family Medical Leave Act (FMLA)
Course Level - Intermediate
Who Should Attend
All Employers with less than 500 employees
Business Owners with less than 500 employees
Company Leadership
Compliance professionals
Payroll Administrators
HR Professionals
Leave Administrators
Managers/Supervisors
Employers in all industries
Small Business Owners
Company Leadership
Why Should You Attend
The new H.R. 1319 regulation has different components that are pertinent to the workplace. Learn how proper implementation will avoid violations. It is critical to know what components have continued, eliminated and new requirements to be able to communicate with employees effectively to provide a safe workplace.

---
---
contact us for your queries :