The Critical Issue of Alignment Between Strategy and Policy and Practice
Nina E. Woodard serves currently as the President and Chief 'N' Sights Officer for Nina E. Woodard & Associates. Ms. Woodard strives to heighten confidence in business leaders as they move into the Indian and other foreign marketplaces, help them increase their understanding of the cultural nuances influencing business in India and to engage in more meaningful and productive communications with Indian colleagues all for the purpose of increasing business results. In addition to her consulting practice, Ms. Woodard is a Lecturer at Ashford University. She founded her consulting company after a 32-year banking career with 25 years of emphasis in Human Resource Management at the Executive Level.
She has a bachelor's degree in Management and an MBA and is certified as a Senior Certified Professional by Society for Human Resource Management and an SPHR/GPHR by HRCI. She serves on the National Global Expertise Panel for SHRM and the California State Council of SHRM as a part of the continuity committee. She is Past President of San Diego SHRM and following her move to Colorado, she is a member of the Colorado Springs SHRM Chapter. She also serves as the Board Chair for Operation Eyesight Universal, US.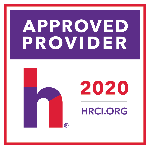 This webinar has been approved for 1.00 Business recertification credit hours toward aPHR™, aPHRi™, PHR®, PHRca®, SPHR®, GPHR®, PHRi™, and SPHRi™recertification through HR Certification Institute® (HRCI®). Please make note of the activity ID number on your recertification application form. For more information about certification or recertification, please visit the HR Certification Institute website at www.hrci.org.

For further assistance contact support@grceducators.com

In this program we will discuss the aspects of organizational dynamics that impact an organization's ability to adapt and be flexible to respond to the shifting sands of the business climate; the challenges that competition, demographics, politics, technology, economics confront us with daily. We will be examining and share a strategic step by step consideration for the way each element of the organization needs to understand and embrace the way forward and will leverage the concepts of the importance of trust-building, of the need for departmental and organizational discussion and communication framework, how accountability plays a role and finally how to ensure the delivery of high-performance results. These aspects need to be a part of the fabric of the organization's system and process and baked into day to day activities so that they can be leveraged to support success. It is this concept that builds an organizational framework and competency to be agile and to be able to generate support to maintain a competitive posture by leveraging the strength of the organization's human capital as well as the financial capital. This is the core of HR's functional aspects of strategic direction and helping to align people's policy and practice behind flexible and adaptable organizational behavior and culture.
Areas Covered
Where to start
Check List for identifying touchpoints
What resources do we need to be successful?
What needs to be aligned?
The Role of HR and Finance Play
The communication to underpin the process
How to know when you have been successful
Course Level - Advances, Intermediate
Who Should Attend
Managers and leaders Officer Level and above
Why Should You Attend
Alignment is a very easy word to say – and to be able to make it work, it takes very strategic consideration of the impacts on all departments across the organization. One of the major considerations that solidify a new direction is how it impacts or affects me personally, and that process takes considerable thought and consideration from the leadership across the board. How does an organization begin with that consideration and the right infrastructure to be able to support shifting strategic directions, maintain today and build the focus for tomorrow's success?
Topic Background
Whenever an organization is growing and evolving it is important that the organization realize that even a little shift can have significant implications across the organization's functions. Unless the organization drills down to each department and realizes the impacts on each, it will not be able to affect change as wholly as it is required to be successful.

---
---
contact us for your queries :