Rethinking Workforce Planning in Times of Uncertainty

Dr. Chartier is the Principal of HRinfo4u, a human resource consulting firm, and a well-known educator and speaker. As a consultant, he works with organizations to improve the effectiveness and efficiency of their human resource function. He has worked extensively in designing, developing, and implementing human resource programs, procedures, and systems for smaller and mid-size firms up and down the Hudson Valley. Greg is a thought-provoking professional speaker and his wisdom and insights into management and leadership make him an electrifying speaker and seminar leader. His seminars are customized to reinforce the company mission, vision, values, and culture, and the content is practical for team leaders, managers, supervisors, and executives alike.
Dr. Chartier has a Bachelor's Degree in Political Science, an MBA in Finance, and a Ph.D. in Human Resources. He is a National Member of the Society for Human Resource Management (SHRM) and is certified by the Human Resource Certification Institute (HRCI) as a Senior Professional in Human Resources (SPHR) and a Global Professional in Human Resources (GPHR) as well as a Senior Certified Professional (SCP) by SHRM.
He served on the Board of the local SHRM Chapter, the Westchester Human Resources Management Association (WHRMA), as the Treasurer for nine years. In addition, Greg served on the Board of the Business Council of Westchester in a variety of capacities and continues his service as the Chair of the Human Resources Council. Dr. Chartier also serves on the Board of the Child Care Council of Westchester. He works with the Continuing and Professional Education Program at Pace University and is a member of the faculty of the New York Medical College, where he teaches in the Masters' in Public Health Program. He is the author of What Law Did You Break Today? A guide to the federal laws and regulations that employers must comply with.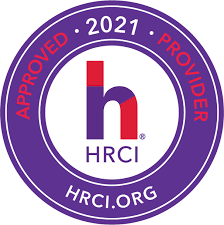 This webinar has been approved for 1.00 HR (General) recertification credit hours toward aPHR™, aPHRi™, PHR®, PHRca®, SPHR®, GPHR®, PHRi™, and SPHRi™recertification through HR Certification Institute® (HRCI®). Please make note of the activity ID number on your recertification application form. For more information about certification or recertification, please visit the HR Certification Institute website at www.hrci.org.
For any further assistance please contact us at support@grceducators.com


The phrase "getting the right people, in the right place, with the right skills, at the right time, and at the right cost" is synonymous with the most common type of long-term forecasting: strategic workforce planning. The methodology, in which HR and their business partners forecast – in time horizons ranging from 3-10 years – the demand for, and supply of, labor has been deployed extremely successfully in sectors ranging from oil & gas to government and healthcare.
Unquestionably, the global pandemic and humanitarian crisis we are experiencing are challenging our conventional wisdom about the world of work. 2021 will be marked by a new normal – virtual work becoming the rule, confounding gaps between high unemployment and a scarcity of qualified talent, decreased job-switching, and heightened awareness of bias and employment discrimination.
Areas Covered
Delivering an Exceptional Experience to Customers. 80% of CEOs said that their organizations deliver an excellent customer experience; however, only 8% of customers say they actually received one. It's an experience gap that targeted workforce planning can address
Building High-Performing Teams…and Their Deputies. How can organizations reduce the randomness of team formation and also provide opportunities to upskill the "back-ups"?
Changing the Organizational DNA. The first step is to clearly articulate the current DNA – are you an organization known for resilience and structure, or one that encourages risk and just-in-time pivots? – and what characteristics will encompass the new DNA
Engaging Soft Skills and Passions. Rarely covered in workforce planning is that which focuses on nourishing soft skills – empathy, critical thinking, creativity, curiosity, flexibility, emotional intelligence, and decision-making. These are considered the foundation upon which to build technical skills which, in combination with soft skills, improves the likelihood of lifelong employability, not just current job security
Borrowing, Not Buying. In the short-term, borrowing employees undoubtedly improves operational efficiency via the reallocation of resources to areas of the highest need. Long-term, this provides a fascinating use case for firms engaged in the same value chain – in a consumer products chain, for example, sharing employees between the sources, producers, distributors, and retailers)
Course Level - Intermediate and/or advanced
Who Should Attend
Human Resource Supervisor
Human Resource Manager
VP Human Resources
Director of Human Resources
Small Business Owners and Managers
Other Senior HR Staff
Senior staff in Finance, Information Management or Facilities
Why Should You Attend
Strategic workforce planning is not going away. In fact, it has become more important than ever
This year will be marked by a new normal – virtual work becoming the rule, confounding gaps between high unemployment and a scarcity of qualified talent, decreased job-switching, and heightened awareness of bias and employment discrimination
HR leaders need to reconsider and refocus their workforce planning efforts and supplement these structural processes with niche opportunities that offer a fresh perspective on workforce demand and take advantage of micro-and macro-economic trends to bolster workforce supply
Topic Background
There is an opportunity amidst the difficulties caused by the pandemic; to identify niche opportunities to take the concept of strategic workforce planning – aligning the workforce with business needs – yet apply it in completely unique ways.
How might we make workforce planning more personal, dynamic, engaging, and reflective of the current economic, social, and employment turbulence that is impacting the future of work?

---
---
contact us for your queries :